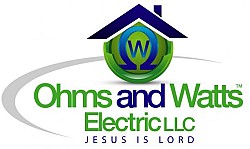 Ohms and Watts Electric
License:

EN215110

Years In Business:

5

Company Overview:

Ohms and Watts Electric LLC was formed in 2008 and is a legal entity in the State of Georgia and has been granted by the City Of Acworth certificate for carrying on the business of Electrical Contractor in Cobb County Acworth, Georgia. Fifty-one year old owner, Richard Strickland, holds a current Electrical Contractor- Non Restricted licensed issued by the State of Georgia State Construction Industry Licensing Board. He is a 1978 graduate of Campbell High School of Smyrna, Georgia, attended Chattahoochee Technical Institute of Marietta Georgia 1992-1994 where he received a Diploma in Industrial, Commercial, and Residential Electrical Technology, and is currently attending Southern Polytechnic State University to achieve a Bachelor of Science degree in Electrical Engineering Technology for the purpose of adding Electrical Engineering services to Ohms and Watts Electric, LLC. During his electrical career Richard has worked for Pave-Mark, West Georgia Electric, Suntech Systems, Inc. installing fire alarm systems & emergency lighting, Van Haren Electric Inc. of Michigan on all phases of electrical repair and new installations on Frito Lay Potato Chip manufacturing plants in Lynchburg Virginia, Rosenberg Texas, and Perry Georgia. In 1998, IBEW Local Union of Atlanta certified Richard Strickland as a Journeyman Wireman. For ten years Richard worked for various IBEW Local Union 613 signatory commercial and industrial contractors installing various electrical products on projects such as: Georgia Power/Plant Bowen, single-generator coal-fired power plant in the TVA Power system near Oakridge, Tennessee, Marta, Flour Maintenance Services, Equifax Data processing center, State Farm Data processing center, a Kellogg's Frozen Waffle factory, Nabisco, JC Penney at Perimeter Mall, restaurants, shopping centers, arenas, schools, hospitals, and much more. Richard has over 25 years of hands on electrical repair and installation experience.

After completing OSHA 500 training, Richard was recognized by OSHA U.S. Department of Labor as an OSHA Construction outreach trainer authorized to conduct 10- hour and 30- hour Construction outreach training in accordance with guidelines provided by OSHA office of training and education.

Ohms and Watts Electric LLC provides reasonably priced quality Commercial and Residential electrical repair and installation for Acworth and surrounding areas. We protect the customer's interest in their property by maintaining Commercial General Liability and Workers Compensation Insurance.