Fluorescent Bulb Safety
CFL Bulbs — Are They Safe?
A question many of us should ask and probably haven't asked or even thought about asking is whether energy-saving bulbs, such as CFL (compact fluorescent bulbs), are actually safe. Do they contain toxic material? Are the old bulbs a safer choice than the energy-saving bulbs? Unsure about the bulbs you are currently using in your home? Check with a qualified electrician who will help determine if you are using the best bulbs for your home.
CFL Bulbs & Mercury: Is There a Risk?
Some people may have heard that CFL bulbs contain mercury — and that is true. However, CFL bulbs still emit less mercury than the old incandescent light bulbs. The mercury emission from a fluorescent light is only 2.4 mg., whereas the old incandescent light bulbs emit 10 mg. over roughly the same time period. However, incandescent light bulbs contain no mercury, and this figure comes from the fossil fuels used to make the bulb. The mercury stored in the fluorescent lights is perfectly safe unless the glass is somehow damaged; in such a case, the bulbs can emit mercury vapor and can cause poisoning if not dealt with quickly and properly. Keep in mind that the mercury in one light bulb usually isn't enough to harm you since it is spread throughout the room slowly over time. Don't take a chance by installing the wrong bulb or not understanding the ins and outs of light bulbs. Instead, find a local electrician to help you.
Recycle CFL Bulbs
Since the CFL light bulbs contain mercury, it is solely up to you whether you feel comfortable enough to install these bulbs in your home. Just remember that CFLs contain mercury and should be recycled to prevent damaging the earth by spreading mercury over it. Also, remember that some of the packaging on light bulbs says nothing about the light bulbs containing mercury.
What to do if your CFL Bulb Breaks: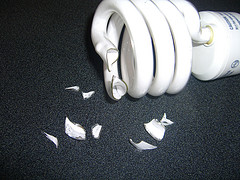 Source: Flickr - Wallaceh
Remember that it is rare for a CFL to break because it is made with a higher quality glass that is much harder to break than incandescent lights. If one should happen to break, clean up following these steps to ensure your health and your family's health:
Don't allow children or pregnant women into the area.
Open the window to allow air flow into the room to allow for the mercury vapor to dissipate.
Sweep up the glass and phosphor powder, and DO NOT vacuum it.
Wipe the area with a damp paper towel, since it helps to pick up the stray glass and the particles; place all of the shards and the paper towel into a plastic bag.
Take the bag of glass, powder and paper towels to your local hazardous waste collection center.
It is easy to clean up the breakage of CFL bulbs that are fast replacing the old incandescent bulbs, and you don't need a company to come in and do it for you.
Something else that may help with your decision in replacing the old incandescent lights is that the mercury in the fluorescent lights is minimal, and CFLs are more energy-efficient than the old incandescent light bulbs. There is less mercury in that light bulb than in a dental amalgam that is placed in your mouth. So CFLs are safe and can easily be cleaned up, should they break, if you follow the steps. If you are pregnant or cannot clean up the mess (or possibly need help cleaning up from the installation of your new fixtures), you can find reliable, bonded cleaners at Cleaning Networx to help you clean up any mess.
In short, the answer to the question of "Are CFL bulbs safe?" is yes! Not only are CFL bulbs safe, but they are more energy-efficient than conventional incandescent bulbs, which are quickly losing their popularity. Now that you know CFL bulbs are safe, you can start saving money and energy by using them in your lighting fixtures!
Get Free Quotes

- Qualified Electricians will contact you with FREE quotes
Fill in your details and be contacted within minutes
Some of our Cities: